What is a Micropile?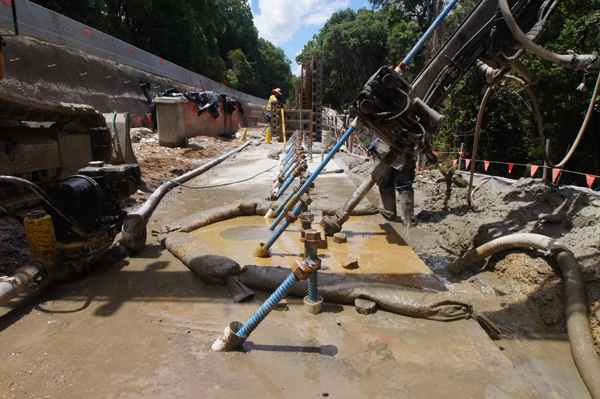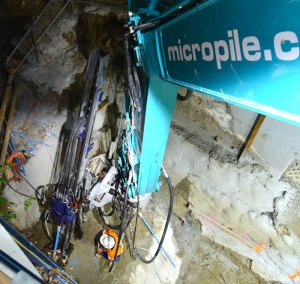 Simply defined, PCA micropiles are high performance, high capacity, small diameter (50mm to 300mm) – drilled and grouted in-place piles – designed with a centrally placed steel reinforcing member consisting of single (or multiple bars), used to take compression and tension loading. They can be installed with relatively small drilling equipment, as single piles or in pile groups, in those areas of limited access or restricted headroom and with minimal impact to existing surrounding structures.
Where can a micropile be utilised?
The unique characteristics of PCA micropiles and the equipment that installs them means there is more flexibility than all other type of foundation system. PCA micropiles can be installed in all conventional applications in addition to numerous other locations where conventional equipment would make the project impossible, some of these are;
Limited access situations
Difficult access situations
Environmentally sensitive projects
Arresting Structural Settlement on existing structures
Resisting Uplift and Dynamic Loads
Underpinning
Upgrading or increasing the capacity of existing foundations
Emergency repairs
Seismic Retrofit
Structures affected by adjacent excavation, tunneling or dewatering activities
Slope stabilisation and land/rock falls
Excavation support
To provide a fast, effective alternative to more traditional methods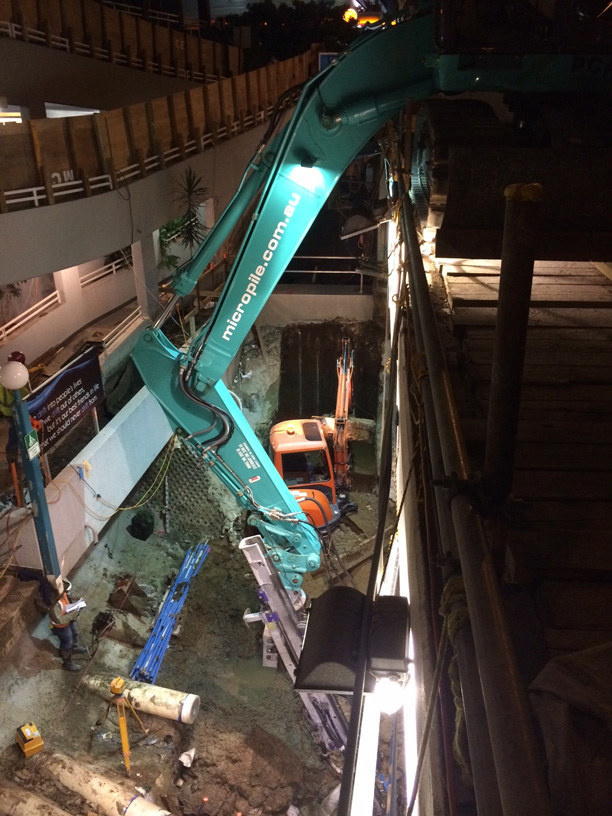 What depth and capacity can a micropile achieve?
Micropiles can penetrate in excess of 50 meters in depth, with design loads of as much as 500 tonnes however production micropiles typically have a capacity of between 30 (30kn) and 150 tonnes (1500kn) per pile. 
A significant advantage of micropiles comes from their ability to be grouped. Originally observed by Dr. Pali Radici in 1952 when he called his micro piles "root piles" (Pali Radici).The roots transfer external, vertical and horizontal static and dynamic forces, moments and shocks which the tree has to absorb into the soil without the advantage of a concrete foundation.
In the same way a network of roots enables the tree to withstand all the effects of the natural environment, micropiles can be grouped together to replicate a root mass constructed of steel and grout. The installation of numerous micropiles can significantly increase loads in addition to mechanically improving the geotechnical conditions, creating a monolithic structure (root ball).

Are there different types of micropiles?
There is technically five categories of micropile type A, B, C, D, and E characterised by different drilling methodology and reinforcement type utilised. The two most routinely constructed techniques are;
Hollow Bar Micropiles
Hollow bar micropiles are particularly suited to soils that are not conducive to open-hole drilling and sites with rock in all its various machinations. Hollow bar micropiles is a pile formed from the top down in one operation by the high-pressure injection of cementitious grout through the hollow bar. The hollow bar serves a dual role as drill string and central reinforcement for the completed micropile. The grout exits the bar through ports at the end of the drill bit which also forms part of the completed micropile.
The drilling and two stage continuous grouting process causes the grout to permeate into the looser adjacent soils and into any voids producing the out "filter cake" of the micropile. Once the pile has reached the desired design depth the grout is changed to a viscous consistency referred to as final grout a medium which is utilized to produce a competent reinforced grout column.
The finished hollow bar micropile is effectively the sum of three components, the hollow bar which is the piles reinforcement, the outer filter cake which creates the piles bond to the stratum and finally the neat grout which provides the pile with its high strength and corrosion protection to the centrally placed reinforcement.
Cased Micropiles
Cased micropiles are essentially larger capacity micropiles which consist of circular hollow casing utilized as the pile reinforcement or a combination of casing and reinforcing bar. Cased micropiles can be installed through almost any type of subsurface condition from sands to clay to bouldery soils and solid rock. Piles socketed into rock or bearing on rock, are capable of carrying more substantial loads than piles relying on skin friction values. Like hollow bar micropiles, cased micropiles can be installed in confined space and low headroom situations. Low-vibratory drilling techniques ensure minimal disruption to the surrounding area and load transfer can be achieved without disturbing underlying structures.
Vertical and/or inclined micropiles can also be installed to provide the additional foundation support needed to withstand increased structural loading, underpin existing shallow foundations during adjacent new construction. Cased micropiles can also be a valuable pile to counteract uplift forces in addition to various applications for slope stabilisation. Cased micropiles can be considered in all geotechnical conditions and offer a viable alternative to bored or CFA piles.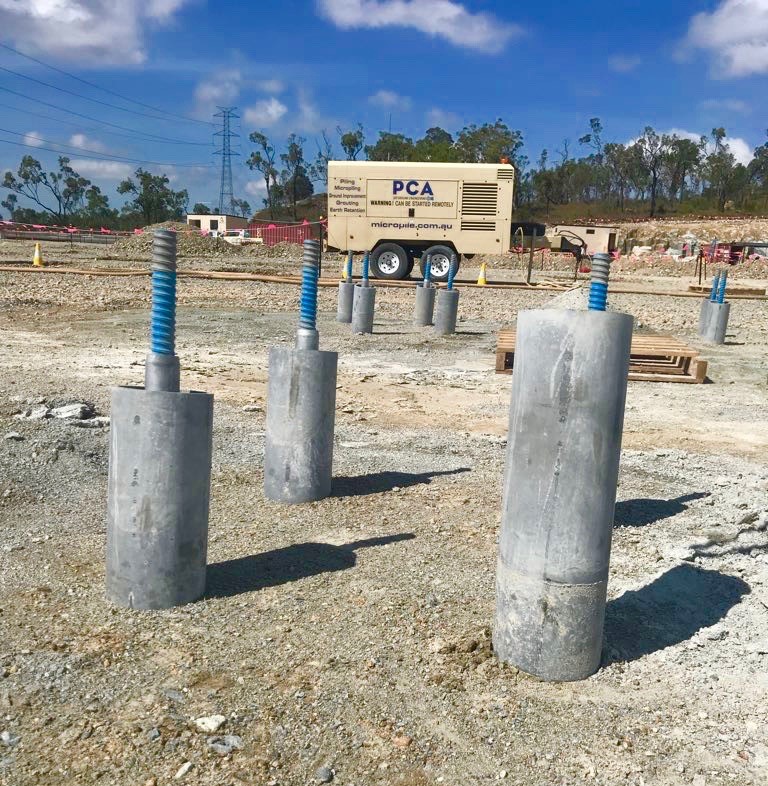 Are micropiles suitable for all geotechnical conditions?
Micropiles in their various machinations can be utilised in more geotechnical conditions that any other type of pile. This can be achieved through the application of different drill bits for different soil or rock profiles that are encountered. If the geotechnical conditions vary from conditions anticipated via testing, you just need to change the drill bit, not the installation procedure or design ensuring the project maintains momentum.
PCA Ground Engineering, through value engineering practices, continues to incorporate (where feasible) the use of micropiles in lieu of traditional piling methods. This can save structures that would normally need to be destroyed and provide clients with significant savings in both material costs and project duration.